Brandon Knight | Brandon Knight, brandon knight basketball, austin rivers. They were teammates on the summer circuit but never met during the high school season. They are a pair of players who are prolific scorers and two of the nation's top players in their respective classes.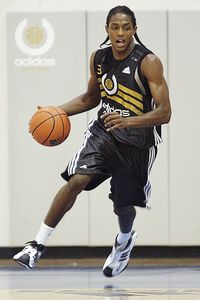 AdidasBrandon Knight should make a major impact no matter where he ends up.
They have raised the awareness of Florida prep basketball, taking their games to the highest levels. Senior Brandon Knight (Fort Lauderdale, Fla./Pine Crest) and junior Austin Rivers (Winter Park, Fla.) will finally face off in the regular season Friday on ESPN2, tipping off at 7 p.m. ET.
The Pine Crest-Winter Park matchup highlights a nationally televised doubleheader from Florida Atlantic University in Boca Raton. In the opener, Montverde Academy plays Sagemont School (Weston) at 5 p.m. ET on ESPNU.
"Florida is known as a football state, but we like to [show] there's a lot of good basketball players here," said Winter Park coach David Bailey, whose team is 20-4 heading into Tuesday's Class 6A, District 4 quarterfinal game vs. Eastridge (Orlando). "People will see two of the nation's best players are from Florida. We're excited about the game," he said.
Bailey's teams are no stranger to ESPN, having appeared twice, most recently in December during the finals of the City of Palms Classic from Fort Myers, Fla.
The Old Spice High School Showcase, a series of 14 regular-season games, closes this weekend with a flurry. The ESPN family of networks will televise three games from Florida and Indiana, featuring top teams and players that will likely become household names.
Though many are intrigued by the player matchup, the burning question is where Pine Crest's Knight, the reigning Gatorade National Player of the Year, will attend college. He has narrowed his choices to Florida, Miami, Syracuse, Connecticut, Kentucky and Kansas.
"Knowing Brandon and how he operates, it'll be a methodical process; he'll probably announce soon after the season," Pine Crest coach David Beckerman said.
Rivers, a 6-foot-3 guard who averages 24 points, has verbally committed to Florida but hasn't ruled out other schools, most notably Duke. "Things could change; nothing is done until you sign the national letter," he said.
Knight and Rivers (No. 2 in ESPNU Super 60) played for Each One Teach One, a Central Florida club team. Rivers figures he'll guard his friend throughout the game.
"You can't guard him the whole game or you'll be exhausted," Rivers said. "I'm the best person to guard him, especially in the fourth quarter when the game could be on the line."
How will Rivers defend Knight, who is closing in on Broward County's all-time scoring mark?
"He's an aggressive player and a scorer," Rivers said. "He likes to attack the glass and steps out to shoot the 3-ball."
Knight has scored more than 3,300 career points, averaging 32 points, and has knocked down 86 3s this season. Pine Crest (19-3) enters Friday's game having dropped a buzzer-beating 63-62 decision to Florida Air Academy, snapping a 30-game home win streak. Knight had 42 points with four 3-pointers.
"[He] wasn't really on that night" said Beckerman of Knight, who sank 18 of 20 free throws. "Brandon scored, but no one else stepped up; we need more contributions."
That's not the case with Winter Park, Florida's top-ranked 6A team and the favorite to capture a state title in March.
The Wildcats are far from a one-man show.
At 6-9, Adam Jones is nearly averaging a double-double (10 points, nine rebounds and four blocks). The defensive stopper signed with Fairfield over Tulane, George Mason and Iona.
"This will be a high-intensity game," Jones said. "This will give us a great test before the districts and gets us exposure to big crowds which we'll see this month."
Brett Comer, a 6-2 junior, is headed to Florida Atlantic. He contributes 12 points and four assists per game. Six-foot-7 forward Robert Lovaglio (12 points, eight rebounds) is getting several Division II looks. Isaac Turner, a 6-1 senior, rounds out the lineup.
Lovaglio is the "X factor," says Rivers.
"Robert does it all. Whether it's setting a pick, diving for a loose ball or grabbing a big rebound, he does all the little things that people may not see," he said.
In the opener, Sagemont runs into Montverde Academy, a buzzsaw that beat Findlay Prep (Henderson, Nev.) 52-50 to capture the Montverde Academy Invitational Tournament last weekend.
Sagemont (17-6) is thin, featuring three Division I players. At 7-0, Fab Melo (10.1 rebounds) is a shoo-in for the 2010 McDonald's All-American Game and signed with Syracuse. Indiana-bound forward Will Sheehey (18.4 points) is the team's top scorer. Junior wing Rod Days is a promising prospect, while point guard Vinny DeLucia averages nearly six assists.
[+] Enlarge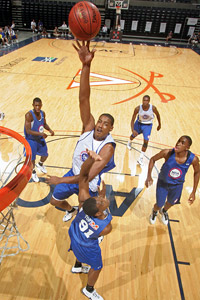 Andrew Shurtleff for ESPN.comFabricio Melo is the rarest of commodities: a true center prospect.
Montverde is teeming with talent. Guard James Bell(Villanova), 7-0 Ugo Okam (Harvard), 6-9 Papa Samba Ndao (Boston College), 5-9 Caleb Clyburn (Central Connecticut State) and 6-5 Jamail Jones (Marquette) are headed to Division I schools. The emergence of their sixth man, 6-7 Haukur Palsson from Iceland, pushed the Eagles to new heights.
Coach Adam Ross welcomes the challenge but has already played eight national powerhouses heading into the Class 2A, District 14 semifinals.
"Montverde is one of the deepest teams in the country; they bring mid- to high Division I players off the bench," he said. "We have to play an errorless game. I wish we could play more teams like Montverde, because they are what we aspire to be."
The cameras will continue to roll Saturday when the Old Spice series shifts to the basketball hotbed of Indianapolis as Lawrence North hosts Bishop Luers (Fort Wayne) at 4 p.m. ET on ESPNU. Lawrence North is the alma mater of Greg Oden, former national player of the year, who was a lottery pick of the Portland Trail Blazers in 2007 and played in the Old Spice series in high school.
Ohio State-bound Deshaun Thomas, No. 12 in ESPNU 100, leads Bishop Luers (10-6). The program has won the past two 2A titles but is slumping after losing three straight heading into Friday's contest versus Wayne (Fort Wayne).
Lawrence North's 6-10 junior center Michael Chandler (Louisville verbal) is an ESPNU Super 60 player.
Must-see events
With the postseason for most states around the corner, there still a few weekends with high-level events to be played. Here's the best of the best this weekend.
National Prep School Invitational, South Kingstown, R.I.: The 12th annual event tips off Thursday for four days at the University of Rhode Island's Keaney Gymnasium. The invitational has 29 games, including eight on the opening two days.
Historically, the NPSI has showcased more than 600 future Division I players, with 20 players moving onto the NBA. NBA alums from the event include Michael Beasley, Brandon Rush, Andray Blatche and Caron Butler.
This year's ESPNU player star power includes: Russell Smith (Louisville), J.J. Moore(Pittsburgh) and Jesse Morgan of South Kent; Jason Morris (Georgia Tech) of Hotchkiss School; Antonio Barton (Memphis), Cleveland Melvin (UConn) and 6-7 Ron Giplaye(Providence) of Notre Dame Prep; Markus Kennedy (Villanova) and junior Angel Nunez of Winchendon; Nate Lubick (Georgetown) of St. Mark's; Will Barton (Memphis) and C.J. Fair(Syracuse) of Brewster Academy; junior Michael Carter-Williams (Syracuse) of St. Andrew's;Kourtney Roberson (Texas A&M) of Christian Life; Calvin Newell of Evelyn Mack; and Tony Snell (New Mexico) and Jamaal Franklin (San Diego State) of Westwind.
Nike Extravaganza, Santa Ana, Calif.: This two-day event tips Friday with five girls' games, but Saturday is the day the 3,200 state-of-the-art Meruelo at Mater Dei High gets crowded.
Saturday's morning session tips at 8 a.m. PT with the first of four games between California schools. The evening session is loaded: Ocean View (Huntington Beach, Calif.)-Orange (Calif.) Lutheran, 4 p.m. PT; Fairfax (Los Angeles)-Wheeler (Marietta, Ga.), 5:30; Mater Dei-Bishop Gorman (Las Vegas), 7; and St. Patrick (Elizabeth, N.J.)-Taft (Woodland Hills, Calif.), 9.
St. Patrick continues its killer schedule with another national opponent. Coach Kevin Boyle's squad caught a break this week, flying out Thursday night for the West Coast. Next weekend the Celtics will play Oak Hill Academy (Mouth of Wilson, Va.) on Friday and Rice (New York) on Saturday, both games in the Prime Time Shootout at two New Jersey venues.
Seven players -- Kyrie Irving (Duke signee) of St. Patrick; Jelan Kendrick (Memphis) of Wheeler; Mater Dei's Gary Franklin Jr. (California), Keala King (Arizona State) and Tyler Lamb(UCLA); Bryce Jones (USC) of Taft; and Anthony Brown (Stanford) of Ocean View -- are ESPNU 100 players.
Wheeler's point guard Phil Taylor, a Florida International recruit, is a blur with the ball going baseline to baseline.
Keep on an eye on these five lesser-known college prospects: James Walker (Utah State) of Los Alamitos, Avery Johnson of Ocean View, Julian Caldwell of Colony, Jordan Gathers of Taft and Chase Plummer (UMBC) of St. Patrick.
Recognized
The Naismith Memorial Basketball Hall of Fame announced that Robert Hughes is the recipient of the 2010 Morgan Wootten Award for lifetime achievement in coaching high school boys' basketball. The annual awards, one for boys' basketball and one for girls' basketball, is named after the longtime boys' coach at Maryland's DeMatha Catholic High School; the only coach in the Basketball Hall of Fame that exclusively coached high school basketball.

Hughes coached I.M. Terrell and Fort Worth Dunbar high schools in Texas for 47 years, retiring in 2005. During his tenure, he collected five state championships and posted a national-record 1,333 career victories, passing Wootten's record for victories in 2003. Hughes is a member of the Texas High School Basketball, Texas Sports and National High School halls of fame.

The girls' coaching recipient is Rick Insell, who gained national fame at Shelbyville (Tenn.) Central. He is currently coaching the Middle Tennessee State University women's team.

"The selection of these two legendary high school coaches for this year's Morgan Wootten Award continues the Hall of Fame's goal of honoring excellence in the sport of basketball at all levels," said John. L. Doleva, president and CEO of the Basketball Hall of Fame.

The awards will be presented by Wootten at the 2010 McDonald's All-American Game events next month in Columbus, Ohio.
Stay tuned
The 2010 McDonald's All-American High School Games will announce its boys' and girls' rosters Feb. 11 on ESPNU at 5:30 p.m. ET. The Jordan Brand Game will release its rosters the following week, on Feb. 18.

Christopher Lawlor has covered high school sports for more than 20 years, most recently with USA TODAY.